What can the wedding industry teach us about making wine a special occasion?
Today's event trends!
The wedding industry is one of the best places for inspiration when it comes to elevating our experiences with wine (even if we aren't in the market to get married).
There are two trends that are easily transferable to your at-home wine dining experiences. The first is the integration of color, which according to Vogue and Green Wedding Shoes, lots of color is on trend for the 2023 wedding season.
That's right. Gone are the days of beige and neutral weddings. Today is the day for bringing up a revived sense of color and energy into our celebratory affairs.
And what better way to adorn our wine experiences than by energizing them with splashes of color?
In a world filled with red, white, and rosé, how can we bring in some color to our wine experiences?
I'm going to show you, below!
Our second trend is one that I've seen grow in popularity over the last few years: Champagne towers. According to Brides, Champagne towers are show-stoppers offering fun, unique, wine-soaked experiences and great photo opportunities. But you certainly don't need a 100-glass Champagne tower to bring this trend into your kitchen! And I'm going to show you how.
Champagne, Color, and Bliss… Oh, my!
How to Integrate Color into a Wine Dinner
I've always looked at the dining table as the invitation into the heart of an evening with friends or family. It's the perfect centerpiece for displaying food and wine. In a party of adults, elevating that section of the home with some simple décor selections is an easy way to "wow" guests while hosting an event to remember.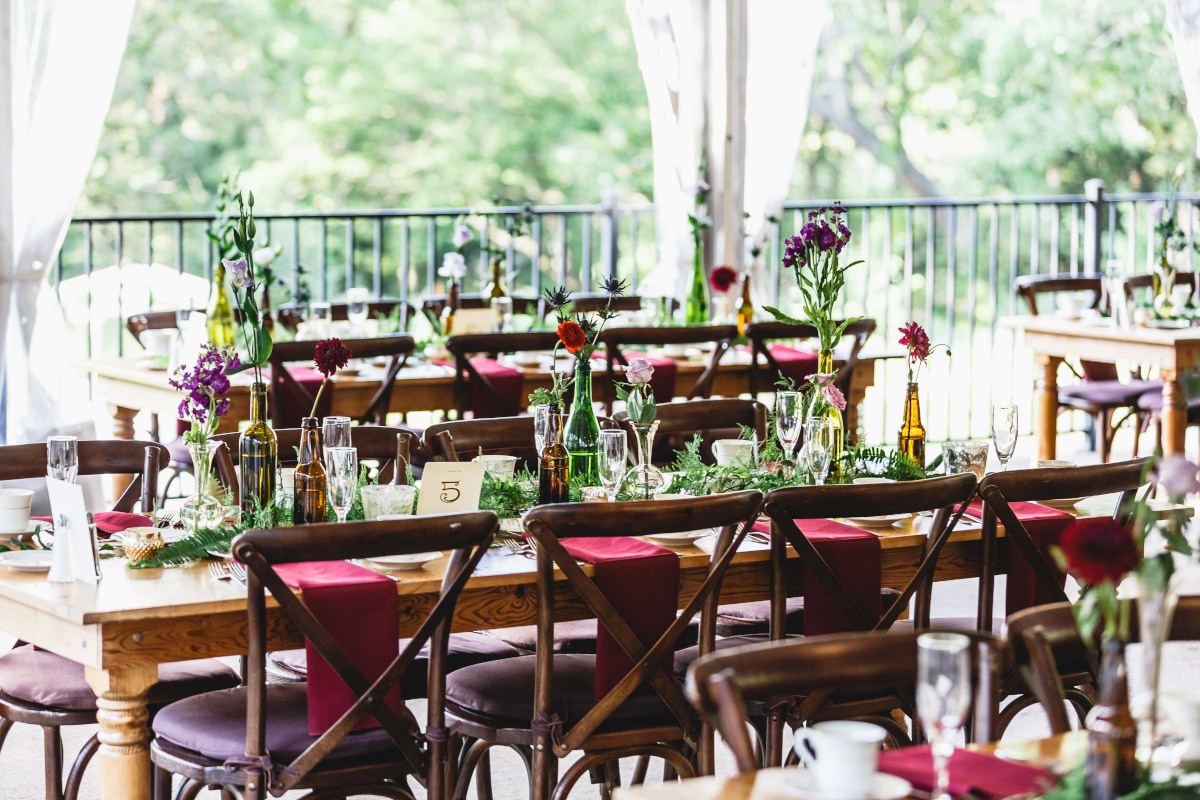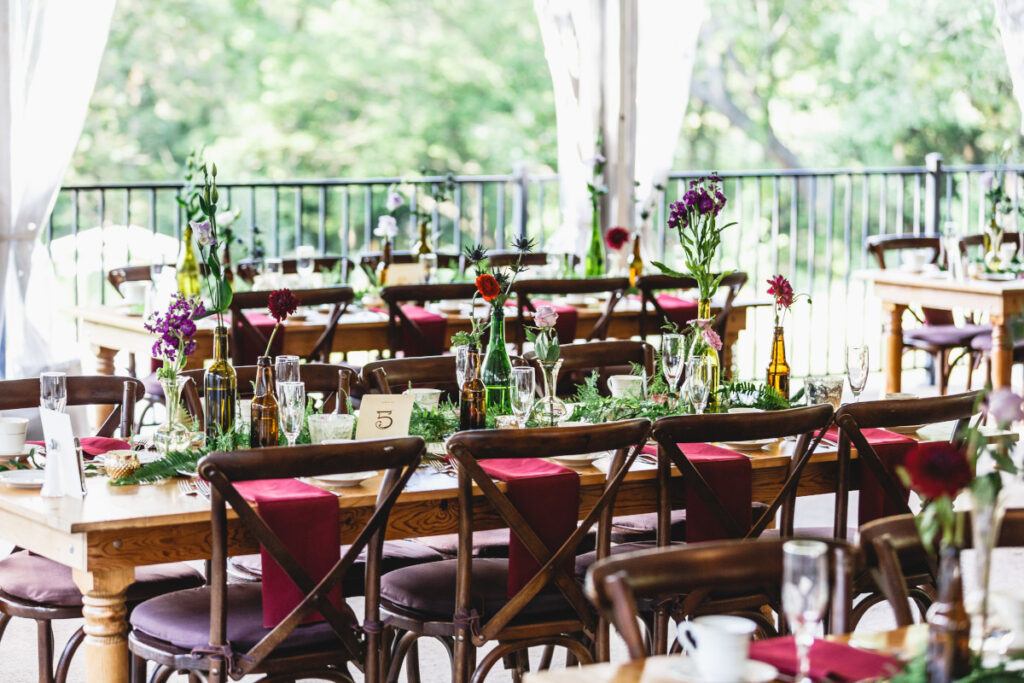 While this may seem like a thing for social media or magazines, avoiding overindulgence and adding some simple decorations can truly improve any wine event you host. I actually used this concept for my own wedding, keeping table decorations simple, but colorfully beautiful. I wanted the tables to feel like we were sitting down to a long, outdoor evening of good food and wine amongst family and friends.
At home, I'm also a "wine minimalist" when it comes to things like wine gear and glasses. Having a particular glass for each style of wine is simply not something I find enjoyable (or affordable). In fact, as someone who sensorially evaluates wines as a profession, I find it difficult to use any wine glass at home that isn't the size or shape I would rely on for some of my sensory evaluations.
But, the one thing I do truly enjoy is getting outside of the "stuffy" environment that is often associated with wine tasting or wine dinners. In other words, I like making wine a part of meals or events that go beyond white table clothes, 3 different wine glasses, and food so unique you barely know what it is.
This is where adding some color to an otherwise boring wine tasting experience can be delightful: colorful glassware.
While I still appreciate a clear, colorless glass for formal wine evaluation, when it comes to socially enjoying wine with friends and family, why not incorporate something that is a little more carefree and expressive?
I've used colorful glassware in the past: some of my reusable plastic glasses are tinted sky blue and we use them in outdoor wine occasions: dinners on the deck, watching the sunset from our home in the summer, or sipping rosé by the poolside. No glass. No mess. And the light blue color always feels like summer.
Whomever said wine can't be fun sure was missing out!
Below you can find three inspirational examples of integrating color into your next wine event at home. These examples show the backdrops to keeping the table simple, yet decorated in a way anyone can copy and throw together quickly! Add your favorite wine(s), food, and friends, and you have yourself the perfect wine event.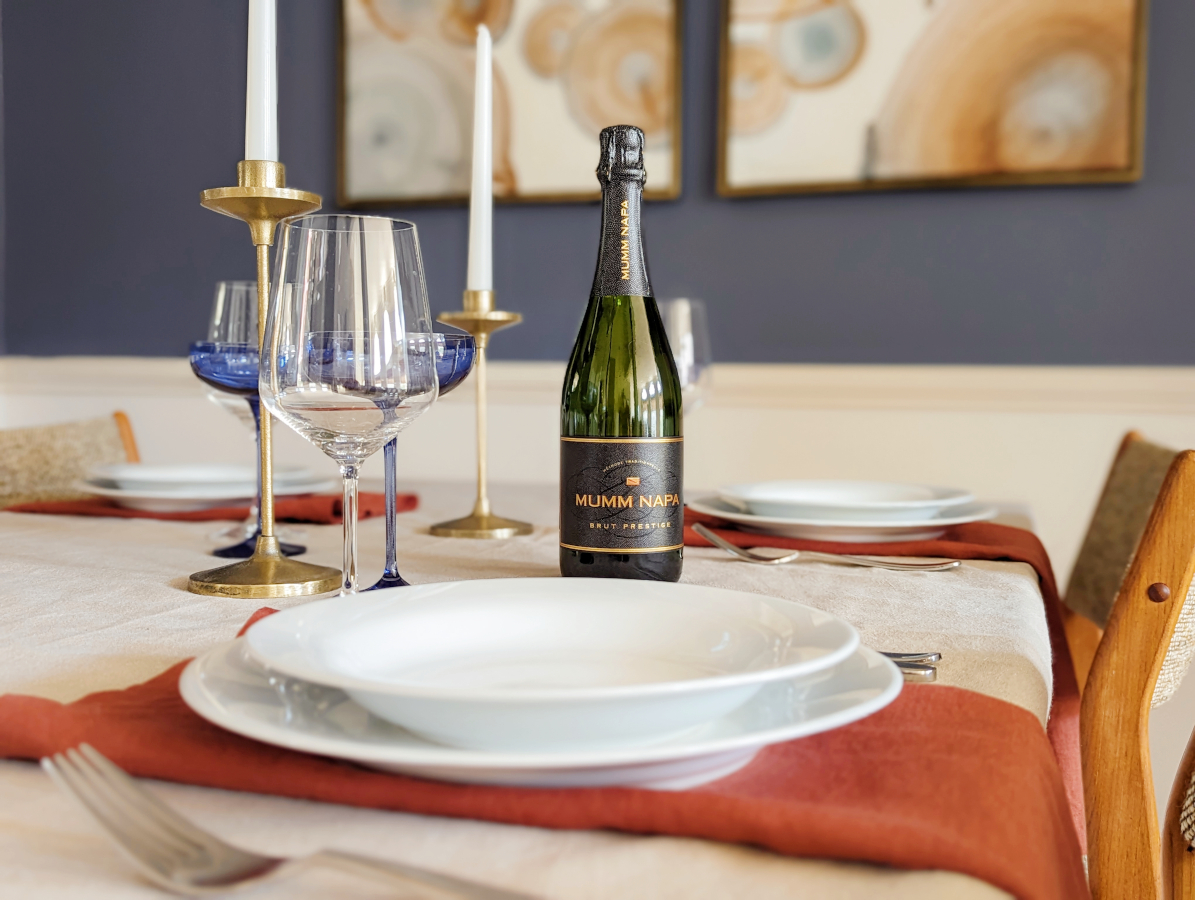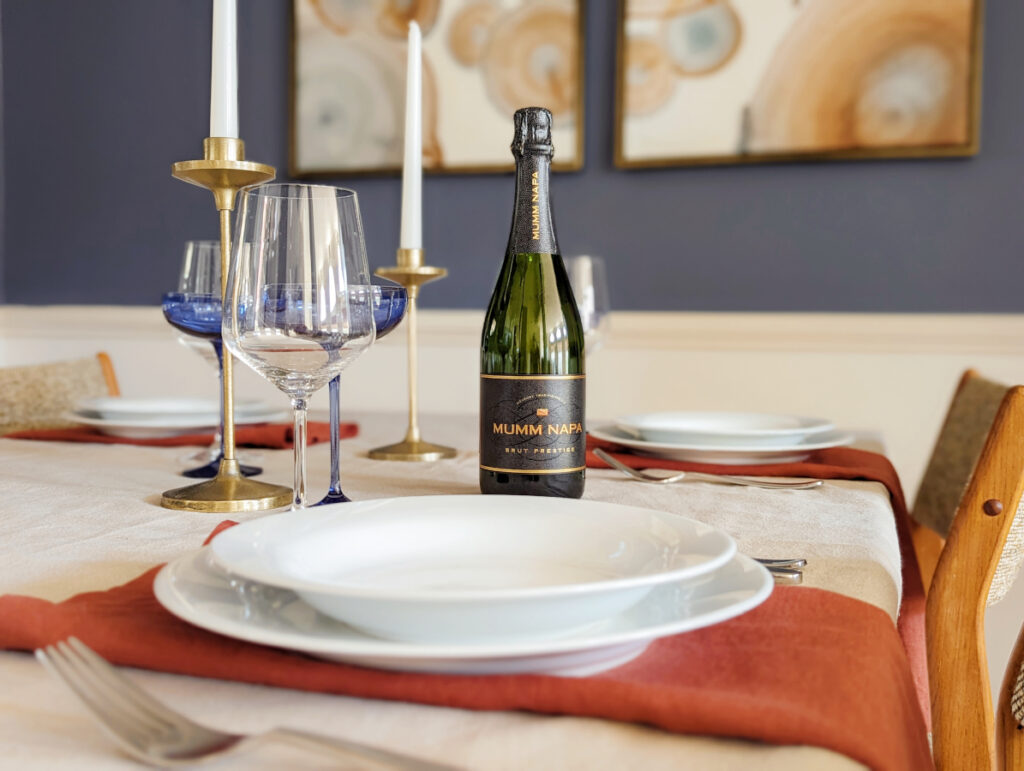 Adding pops of color doesn't have to be overly bold. If your desire is to keep your table and home décor neutral, the use of Estelle Colored Glass Cobalt Blue Champagne Coupes in a relatively neutral table setting remains elegant and refined. Simply use white serving dishes to fill this table with a memorable dinner.
Photos by: Denise M. Gardner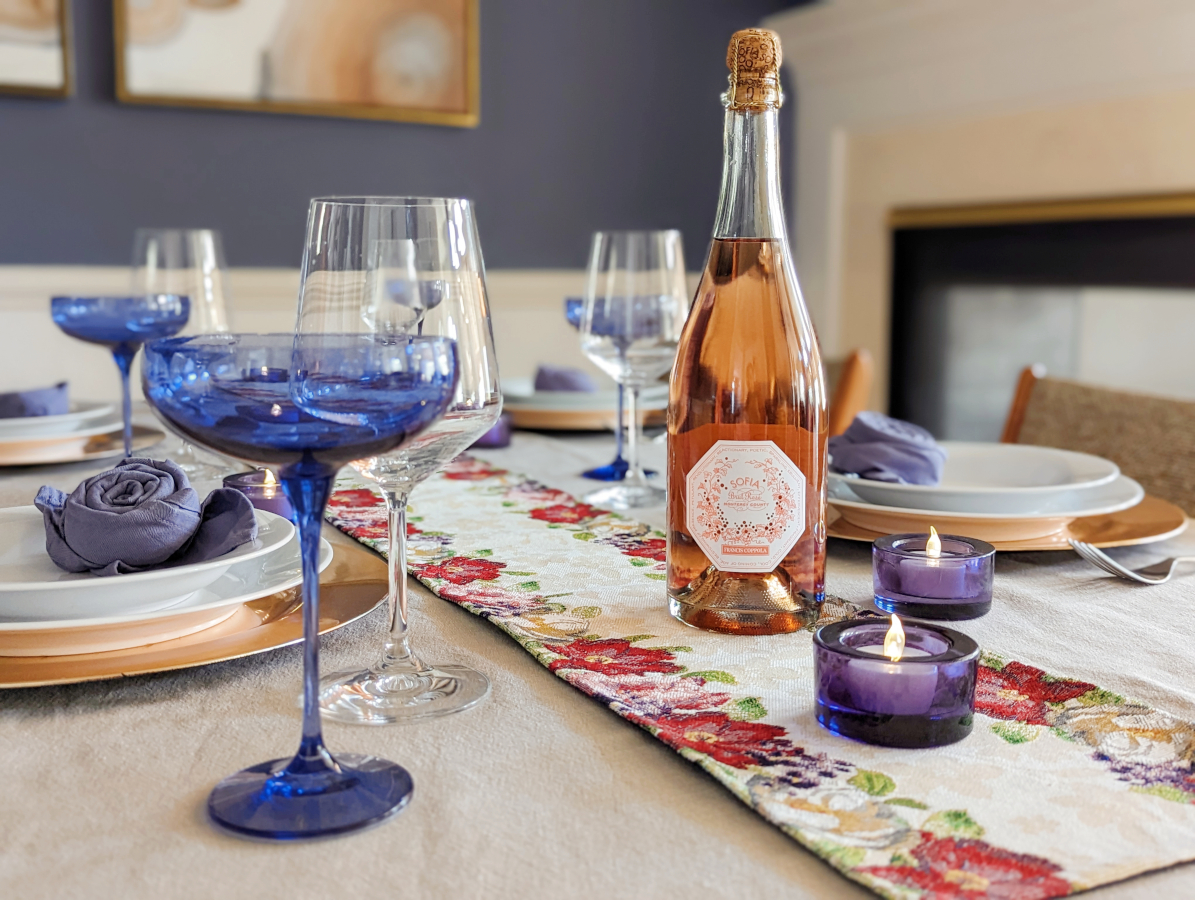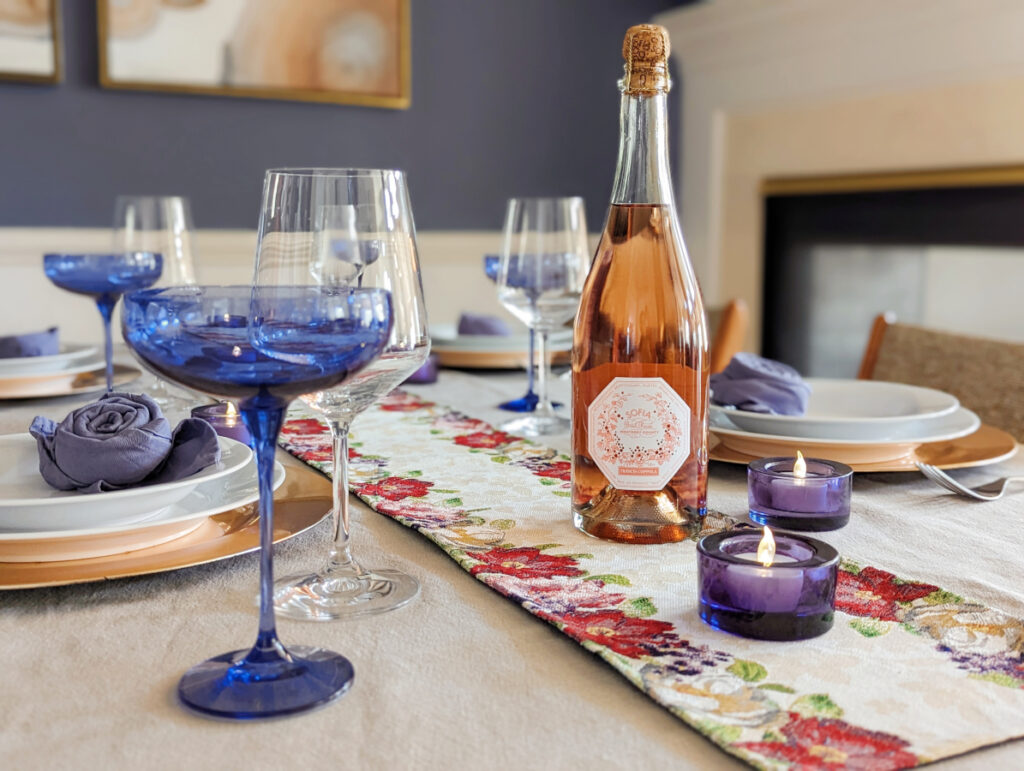 Getting Springy and colorful with this table setting! Here, using a more colorful Spring-floral theme, the Cobalt Blue Champagne Coupes (by Estelle Colored Glass) match the blues and purples that pop from the table runner. Even the wine was selected for its pink color and Spring-like label. Gold colored charger plates and purple fabric napkins folded into roses add a touch of elegance to this dining table.
Photos by: Denise M. Gardner
A Sparkling Show-Stopper
The type of sparkling wine glass used is yet another controversial topic amongst wine professionals. Modern Champagne glassware are flute-shaped, elongated, tubular glasses that provide the best retention and visual for bubbles in the sparkling wine.
However, today, sparkling wine from cans or served in widened, shallow, bowl-shaped glasses (coupes) is trendier.
With the integration of coupe glasses has also come a resurgence of Champagne towers. Champagne towers require the use of a coupe glass for stability and pour/overflow dynamics.
Champagne towers are just fun. They take a celebratory beverage (sparkling wine) and make it even more celebratory. For a past birthday party, I was lucky enough to include a Champagne tower for my guests. People loved watching the sparkling wine trickle down from one glass to the next, filling each glass below another. These make for great photo opportunities and are also a great visual centerpiece.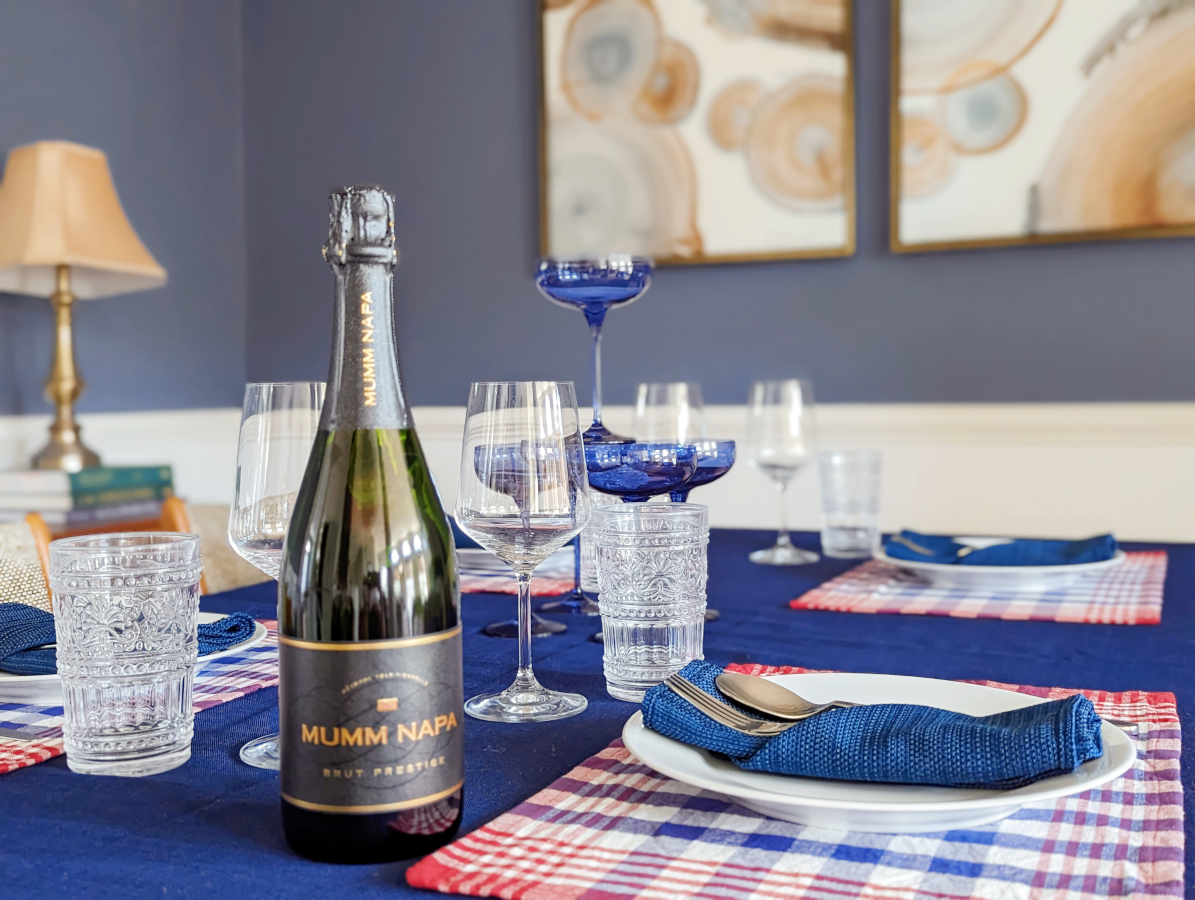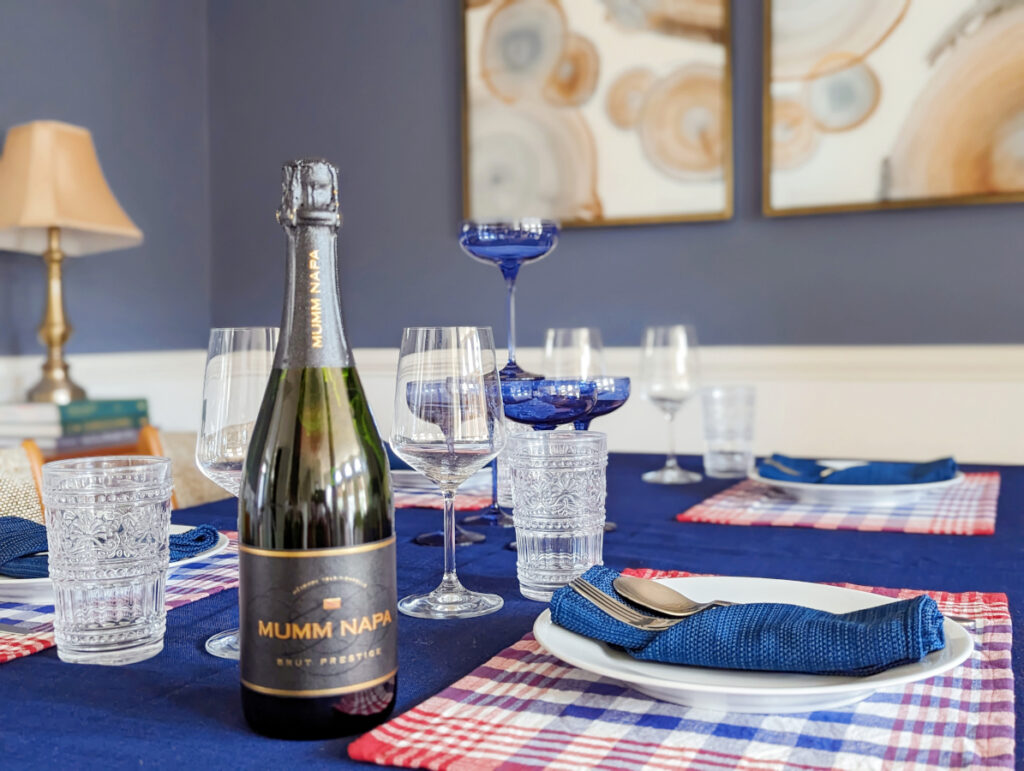 In this red, white, and blue themed table, the Champagne tower acts as the centerpiece. Not only do the Cobalt Blue Champagne Coupes (by Estelle Colored Glass) catch the eye, but the tower itself creates a real visual. Keeping napkin settings and glassware more casual for this table makes it easy to include more traditional picnic food (e.g., sandwiches, corn-on-the-cob, hot dogs, and cold salads) within a sophisticated table scape.
Photos by: Denise M. Gardner
If you are planning on adding a Champagne tower to your upcoming Easter brunch, party, or dinner gathering, here are a few tips for creating them!
Create a Mess-Is-Okay Space
While fun, Champagne towers are messy. Make sure you have a steady table for the tower and that it placed in a location where some spilling may not be a big deal.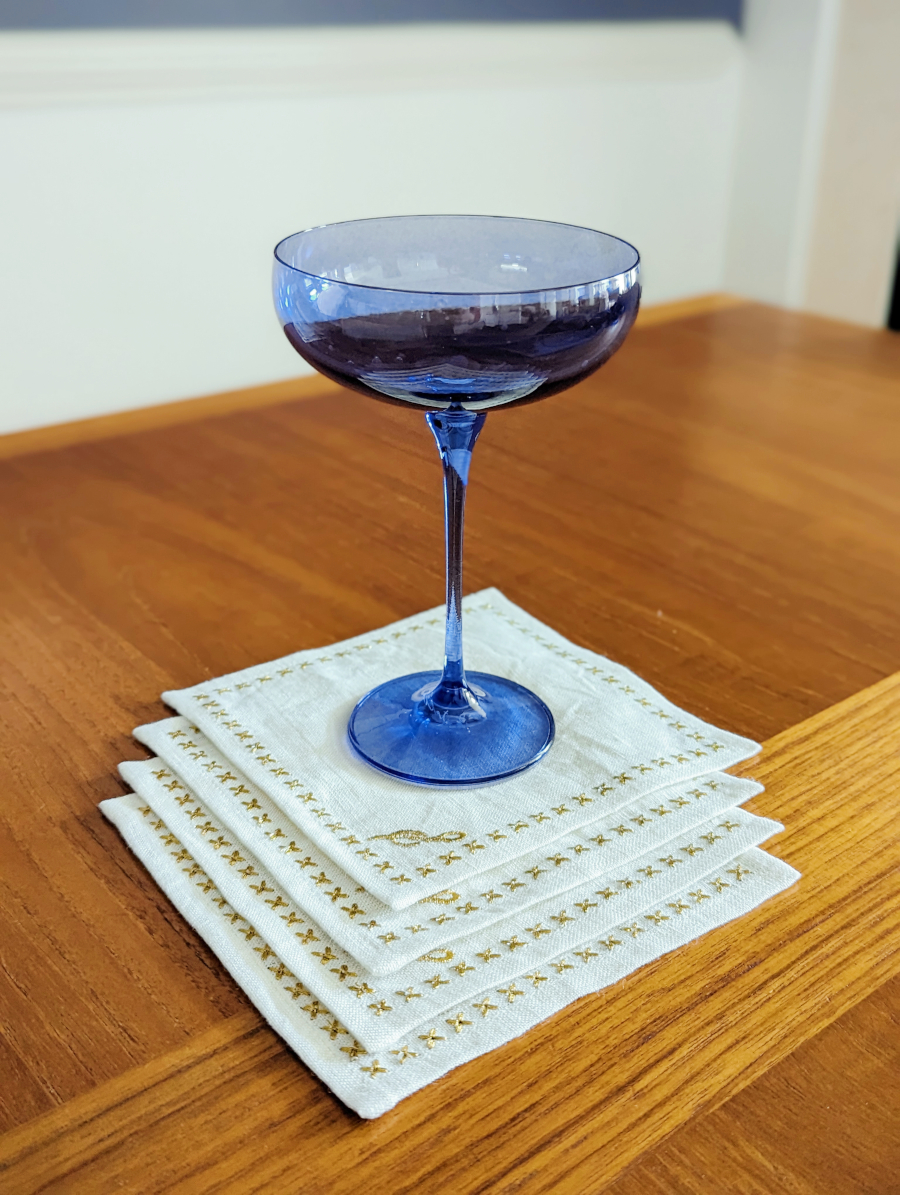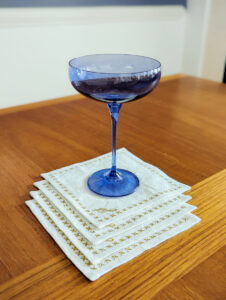 They are also messy for each individual glass. Thus, providing extra towels or napkins for guests to wipe down the glassware is essential. You may want to have cocktail napkins available to place the glasses on after a glass is pulled from the tower.
Also, I'd recommend reserving Champagne towers for dry (i.e., Brut, Extra Brut, Natural) labeled sparkling wines. Otherwise, the glasses will get sticky or attract insects if you are outside. You can always use some of my favorite flavored sugar cubes from Teaspressa for guests to adjust the wine's sweetness to their individual preferences. The LUXE Sugar Cubes clearly add a touch of pizzazz like no other!
Smaller Towers – Yes Please!
It's important to remember that Champagne towers don't have to be isolated for large gatherings. My colorful coupe glass tower was made with only 5 glasses, which is just enough for a small dinner party of 4 adults with one extra glass.
With that in mind, depending on the size of your glasses, it may take a little over 1 bottle of sparkling wine to adequately overflow the glasses and pour into the glasses below. I typically estimate that every 5 glasses will require 2 bottles of sparkling wine (750 mL each). Though, keep in mind, there will be some wine leftover in the 2nd bottle of sparkling wine. Smaller coupes, however, will require less wine. Prepare accordingly!
Finally, make sure the wine is chilled before pouring. Once the wine goes into the coupes, it will warm up quickly. Since sparkling wine is often preferred chilled, you certainly don't want to have an excess of filled glasses or a filled Champagne tower that is sitting out for hours.