Find Your Favorite Sparkling Wine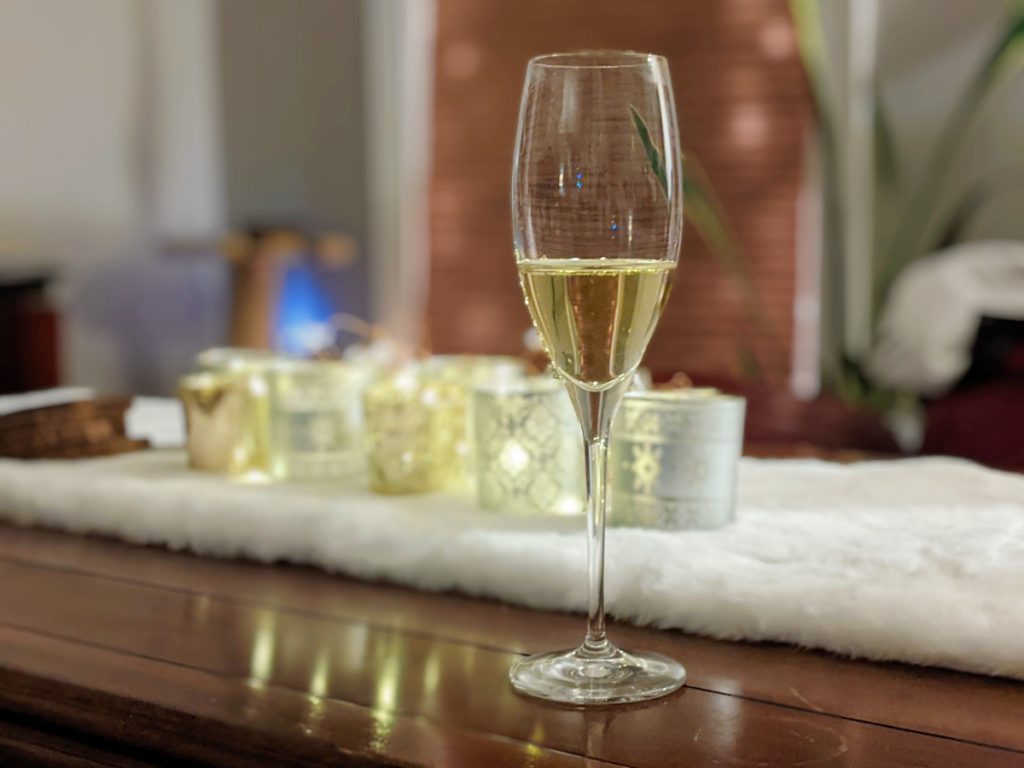 Hello, Wine Lovers!
The holiday season is coming up, and before we know it, January 1st will be knocking on our doorsteps.
This wine-centric holiday is sure to draw you into an up-coming sparkling wine purchase. With some input from those of you that participated in the Instagram (@dgwinemaking) poll, this month we're going to explore the different styles of sparkling wine so that YOU can find exactly the kind you want to drink this New Year's Eve.
Why does this matter?
Because the style of the sparkling wine you purchase can make a big difference in the taste of the wine and the dent in your wallet!
Get ready to ring in the New Year with wine-pizzazz using my savvy sparkling wine secrets, below!
But First, Some Sparkling Wine Secrets Found on the Labels
There are two key things you need to look for on a sparkling wine label that reveals what is inside the bottle: sweetness and style.
Let's tackle sweetness first, because this is somewhat universal regardless of where in the world the sparkling wine is produced.
Every label on a bottle of sparkling wine explains how sweet the wine is before you purchase the wine. If you like drier wines, look for terms like "Natural," "Extra Brut," or "Brut" on the label. And if you like sweeter wines, look for the terms like "Sec" or "Off Dry" and "Sweet" on the label to confirm you are, indeed, purchasing a sweeter sparkling wine. All terms are described in the table, below.
Bonus secret: If the sparkling wine is ever too dry for you, it's an easy wine to sweeten. Drop in one or two sugar cubes or add some simple syrup. Common bar mixers like liqueurs or grenadine can also easily sweeten a sparkling wine. Don't drink a dry wine if you don't like it: add the sugar!
What are the terms to look for on a wine label?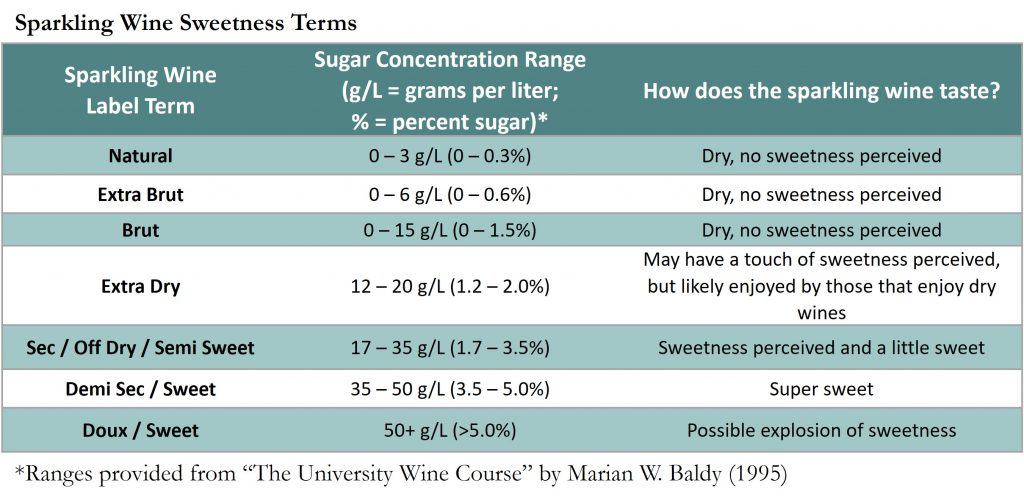 These terms simply tell you how sweet the sparkling wine is, but it does not provide any indication of the flavor.
Sparkling wines do differ by aromatics and flavor based on where and how they were made. This is often what we refer to as the sparkling wine style, which is the second piece of information to look for on a sparkling wine label.
Many sparkling wine styles diverge from the traditional method of producing sparkling wine, which has its roots in Champagne, France. While many sparkling wines are produced similarly to the methods used in Champagne, Champagne wine labels are typically the only sparkling wines that can declare its method on the wine label using the terms, "Méthode Champenoise."
Champagne is made in a particular way in which the bubbles are incorporated into the wine through a fermentation that takes place in the very bottle you purchase. In Champagne, this process is described using the terms "Méthode Champenoise," noted above. When this method is applied to sparkling wines produced anywhere else in the world, the terms "Traditional Method" or "Méthode Traditionnelle" are often printed on the label. All of these terms describe the same methodology used by the winery; the variation in terminology is a reflection of where the wine was made.
Almost all white/rosé sparkling wines have a zesty, citrus, and floral combination of flavors. The variation in those flavors depends on, again, the method used to create the bubbles and the wine grape varieties used in the wine. One key characteristic of expensive Champagne is the flavor produced through the traditional technique. The flavor descriptor "biscuit" or "biscuity" is often used to describe many high-end Champagnes. I like to describe the "biscuit" flavor as having the essence of freshly baked warm bread that is coming straight out of the oven. While this may sound a little weird for wine, it's actually a nice supplement to citrus and floral flavors of sparkling wine.
Thus, if you know you don't want this kind of flavor from your wine, skip the Champagne and move onto a different region or style!
Let's move onto a few styles of sparkling wine to help you make the perfect choice to ring in the New Year.
If you find all of today's information a little too much to absorb, don't forget to print out the Pocket Wine Expert, which can help guide you as you select your next favorite sparkling wine.
Traditional Method
As I already mentioned above, the terms listed above (Méthode Champenoise, Méthode Traditionnelle, Traditional Method) are commonly associated with Champagne, which outlines the traditional wine production method to produce sparkling wine.
Now, not all sparkling wines produced in the Traditional Method have a strong or noticeable biscuit flavor. In general, I tend to find this flavor more pronounced in Champagnes produced in Champagne, France.
Furthermore, it's usually common in white-colored sparkling wines. For those that enjoy rosé sparkling wines, the flavor of these wines tends to be fruitier and more floral focused. For American-produced sparkling wines, it's often easy to do a quick online search of the wine label and confirm whether the biscuit flavor is pronounced.
If you want to explore some sparkling wines produced using the Traditional Method, but would like to choose something that is not Champagne, have no fear. A lot of sparkling wines are produced via the Traditional Method, but are not produced in Champagne.
Additional French sparkling wines will show the word "Crémant" on the wine label. Crémants are produced in other winemaking regions of France using the Traditional Method. However, many of these wines come without the price tag associated with Champagne and often exhibit a focus on fruity and floral wine flavors.
Cava is another example of Traditional Method sparkling wine, which is produced in Spain. Here, different wine grape varieties are used compared to those used in Champagne. And, of course, those wine grape varieties have to be grown in Spain. In general, Cava does not usually have the essence of biscuit flavors that Champagne has. Also, Cava is usually much less expensive than Champagne, though just as delicious!
Finally, many American sparkling wine houses also have Traditional Method-produced wine. Well known brands and smaller brands, alike, often have Traditional Method sparkling wines that range in sweetness levels and are produced from a diversity of grapes. This means that flavors and sweetness will vary, so always make sure to do a bit of research on the winery's website to double check the flavors of the wine you're purchasing. Many U.S.-produced sparkling wines, produced in the Traditional Method, especially around the $20 price point, do not carry the strong biscuit flavors. Thus, these make great Champagne alternatives if you know you would like to skip the stronger biscuit flavors.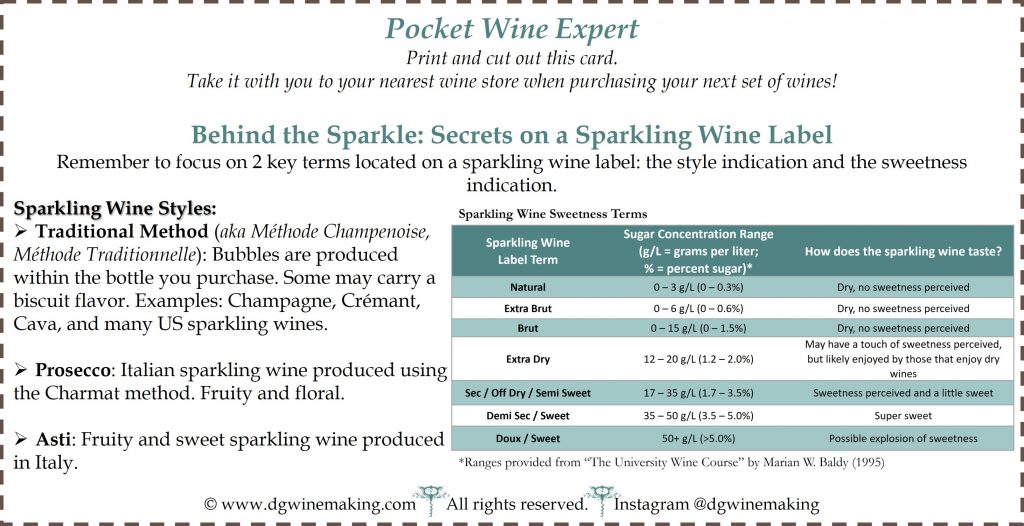 Prosecco
Prosecco sparkling wine from Italy is another famous style of sparkling wine that has become more popular in the last few years due to its reasonable price point. Prosecco is only produced in Italy, and the sweetness can range as described previously. But, the style of the wine is based on how it is produced: through the Charmat method.
Unlike the Traditional Method, Prosecco's bubbles are produced in large tanks instead of in individual bottles. Because of this, the sparkling wine tends to carry fruitier flavors and lacks the biscuit flavors sometimes associated with wines produced by the Traditional Method.
Thus, when you're looking for fruity sparkling wines, Proseccos make an excellent choice!
Again, the sweetness designation is completely separate from the flavor of this style of sparkling wines. Thus, it's possible to find Prosecco in a few different sweetness levels.
Asti
Asti is another sparkling wine of Italy, produced in the Asti region. Often, these wines are lower in alcohol concentration (<10%) and are produced from the Muscat wine grape family. The Muscat family makes up a variety of Moscato wines. Thus, Asti wines are sparkling Moscatos!
Astis, by style, are sweet and fruity. In Asti, the wines are made in a specific way, which usually includes freezing the wine to stop fermentation and trap some of the dissolved carbon dioxide in the wine, which contributes to the sparkling bubbles that we love! If you are a sweet wine lover, Asti is the place to be.
Are There More Styles of Sparkling Wine?
Yes! There are a lot!
But do not get overwhelmed.
That is part of what makes wine so confusing: the choices are endless. If you find a sparkling wine from an alternative region, remember to first look for the sweetness designation on the label. This is the greatest clue as to whether you will enjoy the wine, as many of us have strong preferences for how sweet a wine should be.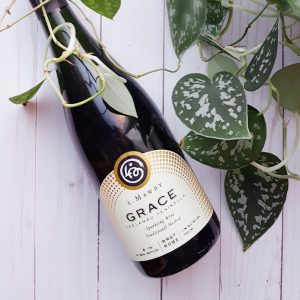 A Hidden Wine Gem: Mawby Wines (MI)
The sparkling wine house, Mawby Wines, is one of my favorite non-West Coast sparkling wine houses! Located in the visually gorgeous Leelanau Penninsula of Michigan, Mawby is known for producing some fabulous sparkling wines! Mawby produces wines that vary in sweetness. If you check out their online shop, you will see the wines are separated based on their sweetness level so you can go straight to your preference. I tend to drink on the drier side, and thus, Grace and Blanc have been some of my favorites. (You can see in the photo above, the clear "Traditional Method" designation and "Brut" classificationfor sweetness on the bottle of Grace!) Nonetheless, we have had Sandpiper and Green (both semi-sweet options) on a few occasions, and these have also been phenomenal.
The Champagne Cocktail
I have a slight confession to make that one of my favorite shows of all time is The Nanny (staring, you guessed it, Fran Drescher). This show entertained me through my young adulthood and since HBO Max recently started hosting the full series, I have been obsessed with re-watching all of the episodes.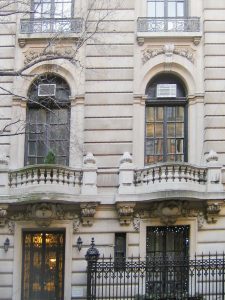 It was in one of the episodes – Pen Pal – that I caught Mr. Sheffield and Miss Fine having Champagne Cocktails at a local restaurant in New York City.
"A Champagne Cocktail," I thought. "What on earth is that?"
(I like wines, but I'm not the best at knowing all of the cocktails out there!)
What I discovered is that the Champagne Cocktail has changed over the years. It was originally mentioned in the 1800s, though the source of designation varies depending on who/what you read. And, one of the classic recipes: a mixture of a sugar cube, Angostura bitters, Champagne and Cognac, the Cognac was not actually one of the original recipes. In fact, not all mixology books contain Cognac as an ingredient!
Nonetheless, this is a simple, fun, wine cocktail recipe that makes the flavors of Champagne refreshingly pop.
How do you make this classic cocktail?
Drop a sugar cube into a Champagne flute and add 2 – 3 dashes of Angostura bitters directly onto the sugar cube. If you want to add the Cognac, go ahead and add about 1 ounce of Cognac directly over the sugar cube. If you want to skip the Cognac, you can. Simply top up the remainder of the flute with chilled Champagne. Garnish with a lemon twist or Maraschino cherry around the rim of the glass. Enjoy!
Fun fact: The sugar cube is not added to actually contribute lots of sweetness to the cocktail. Instead, it acts as a constant source of bubbles in this classic cocktail!
Do you enjoy a sparkly Champagne Cocktail? Share your Champagne Cocktail with me on Instagram by tagging @dgwinemaking. Cheers!