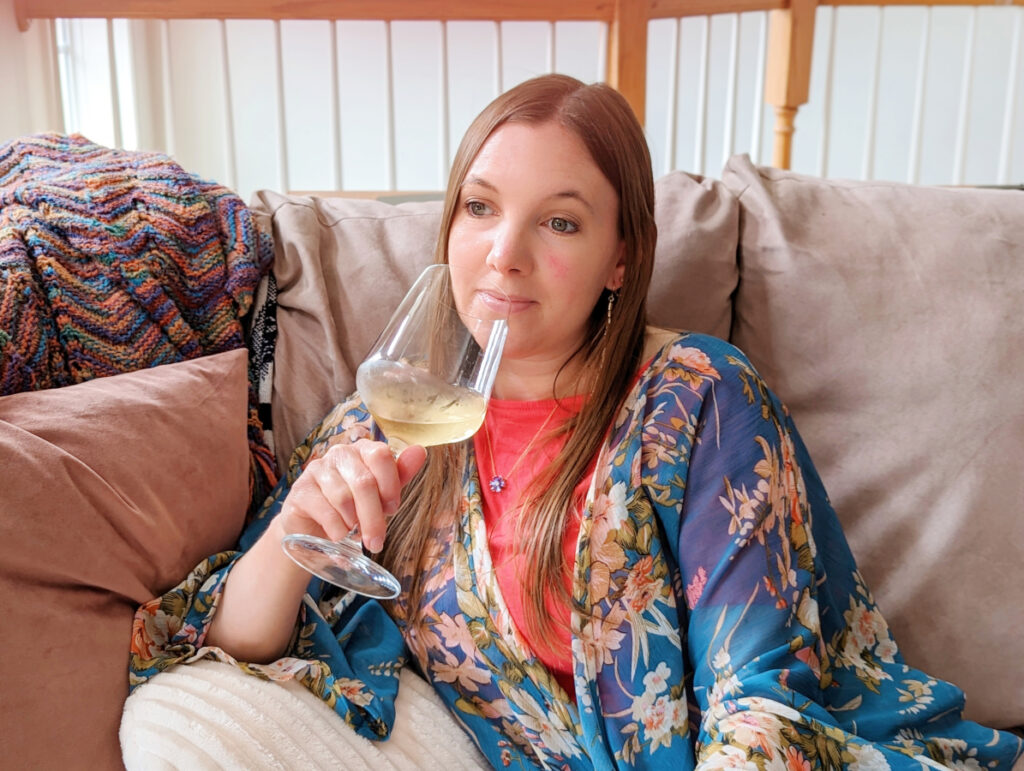 Imagine opening a freshly chilled bottle of white wine. The cool condensation covers the bottle. The crisp, yellow color reminds you of the endless amounts of sunshine through these hot summer months. The trickle of cold, white wine is so seductive that you can almost taste the wine before it touches your lips…
These are the aromatic white wine varieties. They're refreshing and strikingly fragrant, bursting with various fruity and floral aromas. There's nothing unappealing about them. Dry or sweet, these wines are the thirst quenchers of the summer months, capturing the very essence of far off vacations and endless, warm, perfumed nights.
What Classifies a White Wine as "Aromatic?"
In addition to the New World and Old World wine styles, white wines are also classified by their aromatic diversity and intensity. White wines can get a second classification that distinguishes between their "neutral" aroma and flavor or their "aromatic" aroma flavor.
White wines that fall further on the "neutral" side of the aroma and flavor spectrum end up tasting more like "white wine". It's more difficult to find flavor descriptors for these wines as flavors are subtle. Neutral wine grape varieties include Chardonnay and Pinot Grigio. In contrast, wines that fall further on the "aromatic" side have a plethora of aromas and flavors, and these flavors usually come across more obviously. Common examples includes wine grape varieties like Riesling, Muscat (Moscato) and Sauvignon Blanc.
Remember that all white wine grape varieties will fall somewhere along the Neutral-to-Aromatic Spectrum. And, sometimes, a wine grape variety from one region can produce a more aromatic wine from that wine grape compared to when it is produced in other regions. A good example of this is Chardonnay. Many winemaking regions produce Chardonnay wines in a neutral style. However, when wine processing is altered, Chardonnay wines can start to lean more aromatic. Some more aromatic Chardonnay wines come from New Zealand.
Today, I'm going to discuss several of my favorite aromatic white wine varieties that I'll be enjoying all Summer long! So pop open one of these beauties while reading through some options, as I hope this will give you a spot of inspiration to discover a new wine that you enjoy!
Albariño (Alvarinho)
This lovely variety can be found from Spain, Portugal, and parts of the United States. Most Albariño in the U.S. comes from California. This is a full-bodied white wine that can be very bold and very alcoholic. Though, when it's produced in the Vinho Verde style from Portugal, the body of the wine is reduced as the vibrant acidity takes center stage.
Albariño wines have very dynamic tropical fruit flavors: fresh pineapple, guava, mango, kiwi, orange, lemon, lime, peach, fresh apple, and ripe honeydew melon. The wines also have a subtle floral note that often reminds me of honeysuckle or orange blossoms. From Vinho Verde, you'll also find a subtle saline note that is reminiscent of the "smell of salt in the air" when one is visiting the sea.
Where you can find it: In the Spain or Portuguese wine regions. Look for the sub-region, Rías Baixas within Spain. Look in the sub-region, Vinho Verde within Portugal. Wines from Portugual are labeled as "Alvarinho" on the front or back label. You can also find the wine variety listed by the varietal name, "Albariño," in the California (U.S.) regional section.
Some of my favorite Albariño wines: Floral Alvarinho (Vinho Verde, Portugal); Columna Albariño (Rías Baixas, Spain), Black Ankle Vineyards Albariño (Maryland, U.S.)
Fun Fact: August 1st is International Albariño Day! Let's raise a glass and celebrate!
Blanc du Bois
This hybrid wine grape variety is primarily produced in the Southern United States, and I currently find it most prevalently sold throughout the state of Georgia.
Blanc du Bois is relatively young to the wine stage, and many wine producers are still working to determine the best style for this variety. Finding a producer that accentuates the aromatic nature of Blanc du Bois can be challenging, but when you find one, they are truly gorgeous wines. Blanc du Bois can be made dry or sweet. It's lighter in body and alcohol compared to Albariño, but aromatically it is gorgeous! Blanc du Bois wines are also tropical and floral with candied citrus, ripe pineapple, juicy pear, fresh apple, and light nectarine flavors. You can also find a light floral essence in Blanc du Bois wines.
Some of my favorite Blanc du Bois wines: Three Strands Vineyard and Winery That's Amore (Estate Dry Blanc du Bois, Georgia, U.S.)
Where you can find it: You will likely have to contact the wineries individually for these wines, or order off of the winery's online wine shops.
Gewürztraminer
Gewürztraminer is often referred to as "the winemaker's wine." The variety, as a wine, is bountiful in every way. It not only has a bold aroma, but the mouthfeel is typically quite large and impressive. These wines can carry some sweetness, often to decrease the light bitterness often noted in the finish. Not all wines are sweet, but if sweetness does exist in the wine, it can range from a touch of sweetness to overly sweet.
Though, it is important to note that the intensity of Gewürztraminer varies based on where it produced. Alsatian (France) Gewürztraminers may not be as big and bold as some of the wines you will find from California or Washington.
Gewürztraminer is traditionally floral with rose-like aromatics dominating the nose, and notes of spice including cinnamon, ginger, citrus peels, orange blossom, tangerine, peaches, apricots, and even tropical fruit notes like fresh mango. The complexity of Gewürztraminer often leads people to love or hate these wines.
Some of my favorite Gewürztraminer wines: Foris Dry Gewürztraminer (Oregon, U.S.); Galen Glen Stone Cellar Gewürztraminer (Pennsylvania, U.S.); Albert Boxler (Alsace, France)
Where you can find it: In the Alsace (France), Germany, and in the New York, Washington, or California (U.S.) wine regions. These wines are often labeled with the "Gewürztraminer" variety on the front label. Make sure to read the label thoroughly, as the degree of sweetness will range for this variety.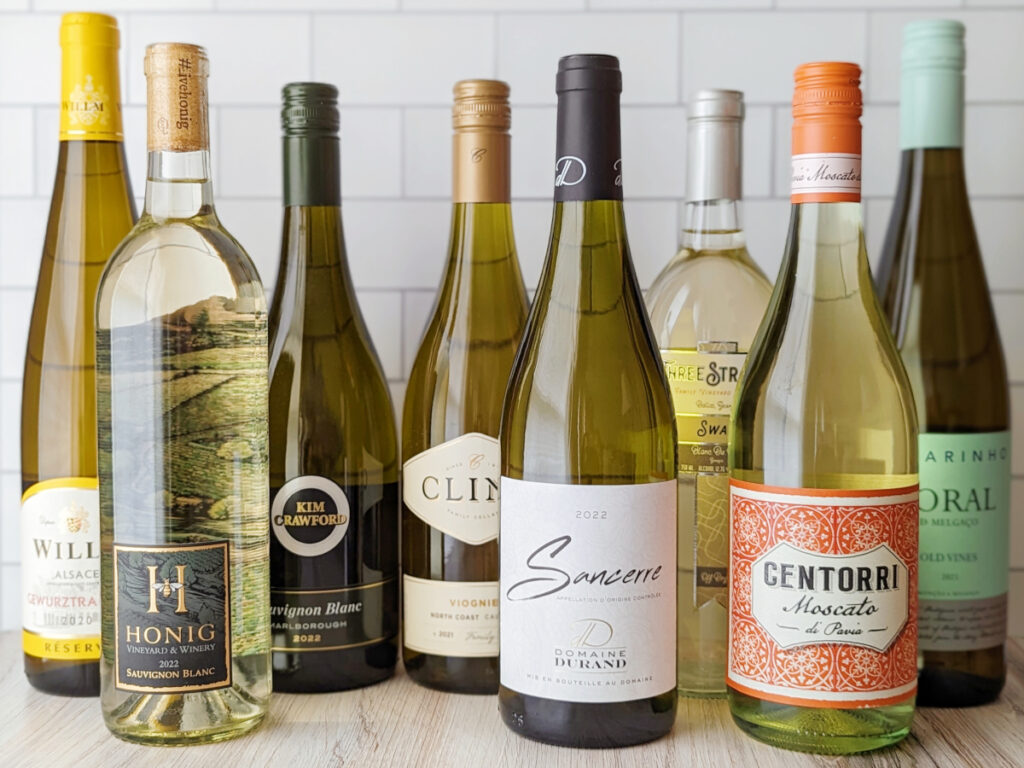 Moscato (Muscat)
The class of Muscat wine grapes are one of the few in which the fruit also tastes like the wine. Both the grape berries and the wine are incredibly aromatic. And, because Muscats are a class of wine grape varieties, different Muscat wines have varying aroma and flavor profiles. Nonetheless, all are incredibly fruity and floral in terms of their flavor.
Traditionally, Moscato wines are lower in alcohol (about 10 – 12%) and almost all Moscatos have some residual sugar, leading to a sweetness sensation. Also, many retain some carbon dioxide, providing a light spritz when you taste this wine.
Some of my favorite Muscat/Moscato wines: The Storm Cellar M+M (Colorado, U.S.), Penns Woods Winery Moscato (Pennsylvania, U.S.)
Where you can find it: Look in the Asti (Italy) region. In the U.S., you can find Moscato wine from many different winemaking regions. These are often labeled with "Moscato" on the front label. If made into a still, dry/sweet wine, the term "Muscat" is often used on the front label.
Sauvignon Blanc
Sauvignon Blanc wines are going to range in their aroma and flavor profile depending on where they are grown and produced. Nonetheless, Sauvignon Blanc is a well-known wine grape variety with a high concentration of thiol-based aromas. Thiols are flavor components that contain the element sulfur in their chemical makeup. What is particularly interesting about these aroma components is that they provide very unique and vibrant flavors. Many Sauvignon Blanc wines are known for their grassy, grapefruit, tropical fruit (guava, mango, papaya, star fruit), kiwi, and citrus flavors. New Zealand Sauvignon Blancs lean heavier on the grassy, grapefruit, and tropical fruit flavors. Other regions tend to tone down these flavors and spend more time on building mouthfeel and structure in the Sauvignon Blanc wine.
Some of my favorite Sauvignon Blanc wines: Kim Crawford Sauvignon Blanc (New Zealand), Provenance Vineyards Sauvignon Blanc (Napa, California, U.S.)
Where you can find it: Because of the popularity and prevalence of Sauvignon Blanc wine, many wine stores have U.S. brands centralized into a Sauvignon Blanc section. Napa Valley (CA) is a California region in which Sauvignon Blanc is heavily produced. You can also look in the New Zealand region for an alternative wine style featuring Sauvignon Blanc. For an Old World alternative, with more restraint in the aromatics, try the Touraine or Sancerre regions (Loire Valley, France).
Vidal Blanc
This is a very elegant white wine grape variety that is primarily grown in the Northeast and Mid-Atlantic wine industries. It's a tricky wine to produce, and sometimes, if produced in the presence of too much oxygen, the aroma and flavor profile can become quite bland. However, when produced properly, the nose bursts with tropical fruits, pineapple, fresh pear, kiwi, honeysuckle, and fresh almond flavors.
Some of my favorite Vidal Blanc wines: Pinnacle Ridge Dry Vidal Blanc (Pennsylvania, U.S.); Rudbeckia Winery Belle Blanc (Michigan, U.S.)
Where you can find it: You will likely have to contact the wineries individually for these wines, or order off of the winery's online wine shops.
Viognier
While it may look difficult to pronounce, Viognier is a really fun wine grape variety that is used primarily to create dry white wines. Again, you'll find a range of flavors with this wine based on where the fruit is grown and produced into a wine. Viognier is somewhat known for it's really big pop of aromas, lots of flavor up front, and strong finish that is alcoholic and citrus-flavor focused. Peach and nectarine flavors dominate Viognier to varying degrees. These flavors are coupled with fresh apple, pear, honeysuckle, vanilla cream, and candied fruit.
Some of my favorite Viognier wines: Cline Family Cellars Viognier (California, U.S.); Veritas Viognier (Virginia, U.S.); Rosemary Manor (winery in Idaho)
Where you can find it: Look for nationally distributed Viognier wines in the California wine region. If you are lucky enough to have access to Virginia wines, Viognier is a white grape variety that many of those wineries produce. For an Old World alternative, look for Viognier in the Northern Rhône (France) region of the wine store.
Taste Wines with Denise!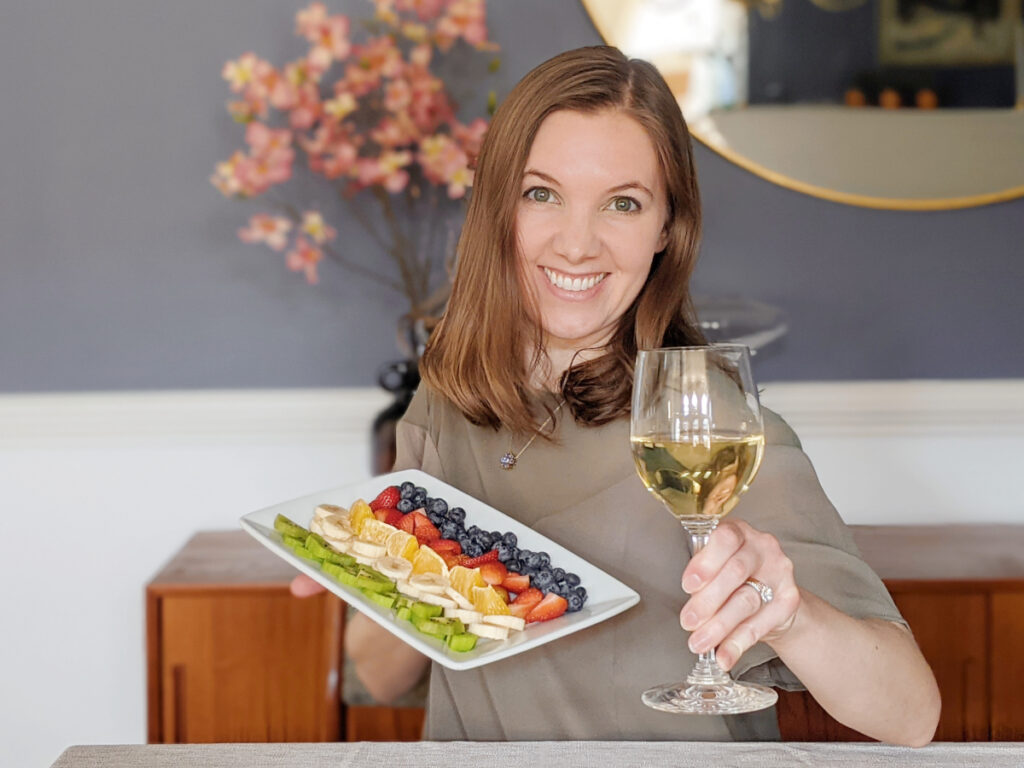 Have you wanted an opportunity to sit alongside Denise and taste a series of wines with her?
Well now is your chance!
Starting in July 2023, Denise Gardner Winemaking is launching the first ever virtual tasting group, "Taste Wine with a Pro!"
Here's how it works:
Denise picks a wine theme.
You bring a wine.
Denise discusses the wines with you during our virtual tasting!
More Details
Each virtual class will feature a wine theme. Those that register for the event will receive an email invitation for the event and an explanation of the wine theme. Within the explanation, Denise will provide a list of different types of wines (with some of her favorite brands) for you to find and bring to the tasting group.
No wine is the wrong wine.
The point is to explore and try different styles of wines while getting some time with Denise as she talks about the wine theme for the evening.
Taste Wine with a Pro is currently offered 4 times per calendar year with rolling admission. If you want to sign up after July, you'll be able to join us for the next class and the following 3 consecutive tasting group classes.
Subscribe to the Sip & Swirl for a $50-off discount code (essentially, you get one event free!).
What do you get from these classes:
A professional concierge service to navigate a wine purchase in your wine retail store
Educational conversation regarding the event's wine theme
Non-pretentious wine discussion on wines brought to the tasting group
Encouragement to explore new wines you never tried before
Increased confidence in trying and discussing wines
An opportunity to ask Denise all of your wine related questions!
Come sign up to join us now!