Hello!
I'm SO happy you can be here to enjoy wine with me!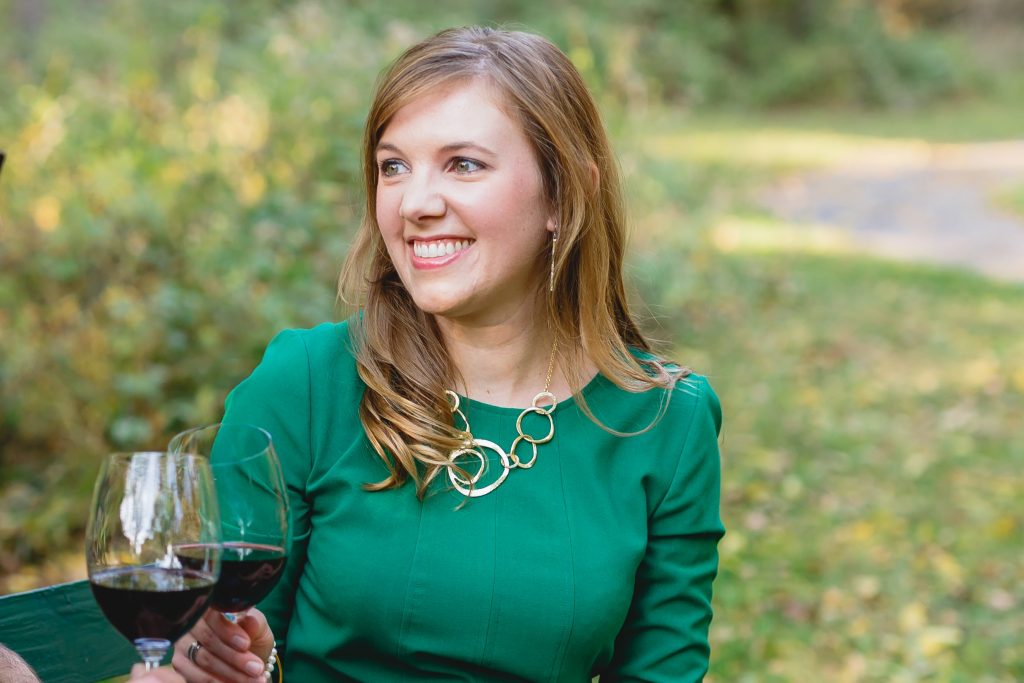 The wine world can be pretentious and expensive.
Hey! I get it. I've worked in the wine industry for decades. That's why I want to take a chance and have you join me in making more fun on a more regular basis.
My 19-year wine journey in 30 seconds: Who am I?
My winemaking journey started when I was a sophomore in high school. Yes, high school.
As an active member of our school's FFA program, I participated in agriculture-themed public speaking competitions. Throughout the duration of this program, my speeches were always about grapes, wine, and wine science.
The knowledge I gained through that program led to science fairs, internships in France and California, a B.S. in Food Science from Penn State University, and an M.S. in Food Science and Technology from Virginia Tech University.
My first official, out-of-school job was with Enartis Vinquiry (now, Enartis U.S.A.), a winemaking supply company based in California. I acted as the company's Sensory Scientist, leading wine industry sensory trials, evaluating new products used to make wine, and learning A LOT about the California wine industry.
Eventually, my heart wanted to travel back to the Eastern wine industry where my wine roots had been planted.
In 2011, I accepted my dream job as the Penn State Extension Enologist. An enologist is a person that studies the science of wine.
As the state enologist, I had opportunities to meet winemakers from wine regions all over the U.S., and I developed tomorrow's winemakers through research and education. I also completed a few certification programs through the Society of Wine Educators (SWE) and Wine and Spirit Education Trust (WSET) to deepen my tasting skills and appreciation of wine.
And then one day, I took a leap to start Denise Gardner Winemaking: a new era of consulting services in which technology is used advantageously to meet the growing needs of winemakers and wine enthusiasts. It's through this entrepreneurial venture that I want to add the extra flair to your table by introducing you to new, affordable wine styles in an approachable, fun way of enjoying wine.
The wine that goes on my table can go on your table, too."
My Mission
I want you to feel more enjoyment in selecting wines you will love and feel more confident with your selections while serving wine to friends and family.
Unlike most wine experts that feature flashy, expensive brands, my goal is to provide you with wines that are accessible, affordable, and delicious. Every wine that I serve at my table can go on your table, too.
How can we connect?
Easily.
If you're looking to explore new wines in your daily life (without the snobbery), subscribe to the monthly Sip & Swirl, here.
If you're active on social media, you can find me on Instagram or Facebook using the handle @dgwinemaking.
Or you can join our virtual tasting group and taste wines with me 4 times a year! Find out more, here.
Looking forward to sharing wonderfully unique wine experiences with you!
The Longer Version of My Story
I'm a Millennial mom that's been working with grapes and wine since I was 16-years-old. While I love and enjoy wine, I developed Denise Gardner Winemaking to find a better work-life balance while I had a family. While the wine world can be demanding at times, I'm a proud mom of a young daughter and two four-legged fur babies!
The wine world has been a big part of my life and shaped my life experiences in unique ways. My interest in wine has also taken me all over the world and granted me opportunities to meet a lot of fascinating people and taste some extraordinary wines. If you want to find out a little bit more about me, please feel free to read through this longer version of my story.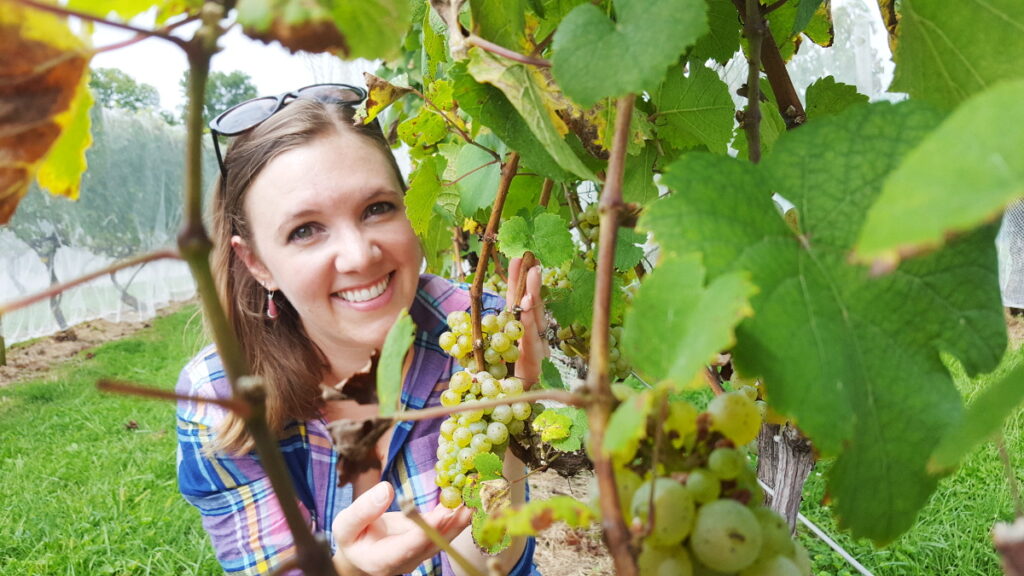 Chapter 1: My Introduction to Wine
The wine industry entered my life when I was freshman… in high school.
Yes! You read that correctly. But it's not the way you are probably thinking!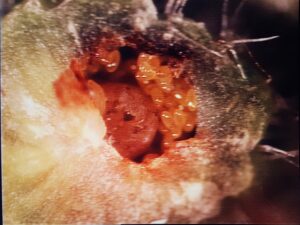 I have a deep love for learning and passion for science. During my freshman introduction to agricultural sciences class, I was introduced to a wee little insect called Phylloxera (pronounced: phil-lox-rah). Phylloxera are native to North America. One trip through the Eastern U.S., and you can find their little homes on the leaves of many grape vines that hug forest edges. But this insect also lives in the soil, sucking on the roots of wine grapes.
This is THE insect that devastated the European vineyards in the 1800's. Phylloxera's presence in Europe decimated vineyards, eliminating entire crops of wine grapes. The devastation was so bad that thoughts of the entire winemaking industry collapsing were floating through many people's minds.
It was American grape vines that ended up saving the European wine industry through a process called grafting. Today's European wine grape varieties (i.e., Cabernet Sauvignon, Chardonnay, Riesling, Merlot, etc.) require the addition of a special rootstock with American grape vine heritage that is tolerant of this vine sucking insect. Today, most of the wine grapes grown throughout the world require a grafted rootstock tolerant of this pest.
This was the story that got me hooked.
Phylloxera came into my life, and the rest is – as they say – history.
My heart belonged to wine grapes.
Chapter 2: A high school girl follows her curiosity
My love for learning and a deep desire to "see the world" kept me engaged in the subject of wine.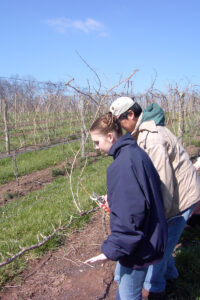 As a FFA member, I participated in public speaking competitions in which my speeches focused on the wine grape industry. This activity increased my home library of wine books. I was 16 and reading books on wine chemistry, grape growing (viticulture), and wine history. It was also around this time that I was introduced to one of mentors, Mark Chien, who was, at that time, the Penn State Extension Viticulturist.
Mark showed me the wine industry through the lens of a viticulturist. He connected me to industry experts throughout the U.S. that worked on grape tissue culture, grapevine disease research, and winemaking. Mark also made it possible for our high school ag department to gain access to 30 wine grapes, which were planted outside of the high school building. The name of "my" vineyard: Grapery Hollow Vineyard.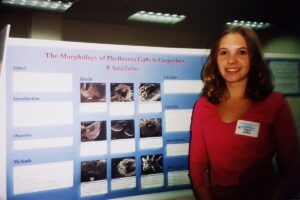 While my brothers and ag teachers deserve full credit for nurturing my Chardonnay and Chambourcin grapevines in their first year of life while I ran off to State College to participate in phylloxera research while attending the PA Governor School of Excellence in Agricultural Sciences, I spent the remainder of my high school tenure tending to Grapery Hollow Vineyard with my ag teachers.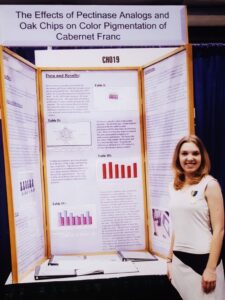 Additionally, I participated in research through high school that was mentored by several professors and industry experts. My interest in research led me into the world of science fair competitions. By the time I was a senior in high school, I won one of the Pennsylvania state science fairs. This granted me the huge opportunity to attend the National ISEF competition, which as an amazing experience as a high school senior.
My experiences during high school were anything but ordinary. I was incredibly lucky to connect with individuals that believed in me at such a young age.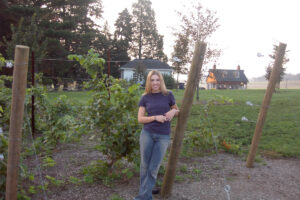 At the end of high school, I received an invitation to work abroad via an internship at Lallemand in Toulouse, France. Thus, in the summer between high school and college, I was introduced to enology (winemaking), participating in industry-led research on Oenococcus oeni fermentations. This is the wine bacteria that is commonly used to complete malolactic fermentation, a second fermentation in wine in which the bacteria convert the harsh tasting malic acid into a softer tasting lactic acid.
Chapter 3: Wine education
I am a Food Science graduate from Penn State University. Though, my college experience was nothing short of further emergence in the wine industry.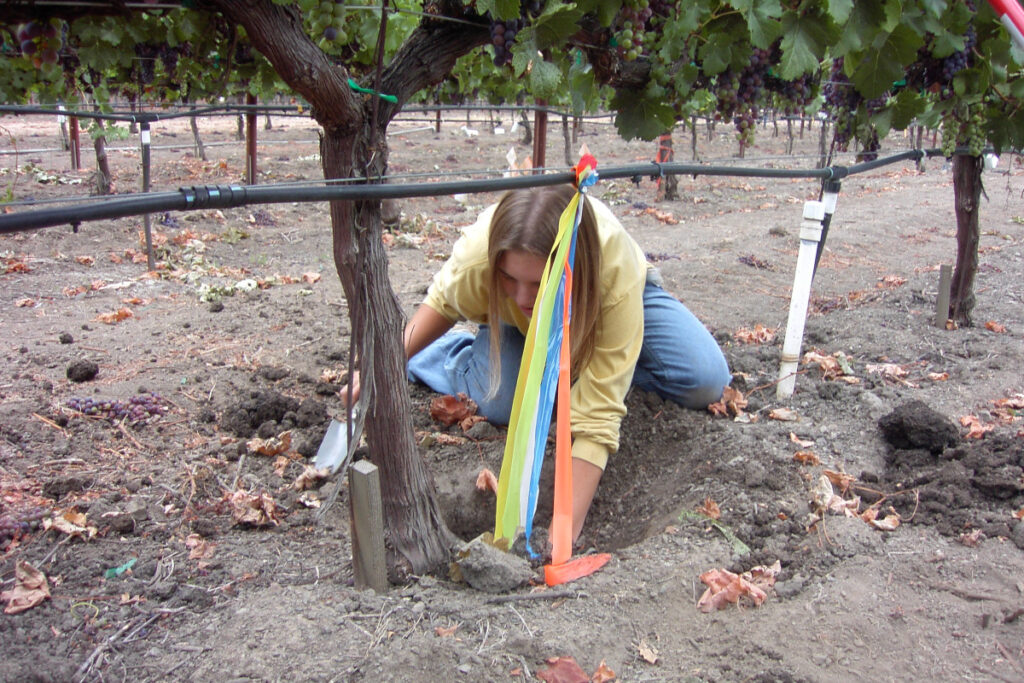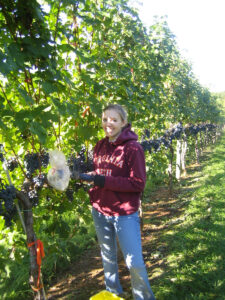 After my freshman year, I reconnected with my love for phylloxera and got to study the insect alongside a graduate student mentor (she's now a professor!) in California. While this was my first introduction to the California wine industry, it was also the place where I got to dig into Napa soils and harvest phylloxera! My dedication to this participating in this project eventually led to the very first science publication in which I was granted authorship.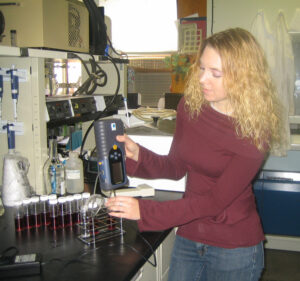 When I graduated from Penn State, I attended Virginia Tech University where I received my M.S. in Food Science and Technology. My graduate research was in the field of enology, the science of winemaking. My graduate experience also introduced me to wine sensory and wine processing. It was here I learned how to make better wine and how to taste wine in order to identify wine problems.
Chapter 4: Wine tasting – it's my thing!
My wine tasting talent is this:
I can smell and taste wine and identify a problem with the wine. Or, I can identify places in wine production that need altered in order to change the wine's aroma, flavor, or taste.
I've spent a lot of time since graduate school refining this talent.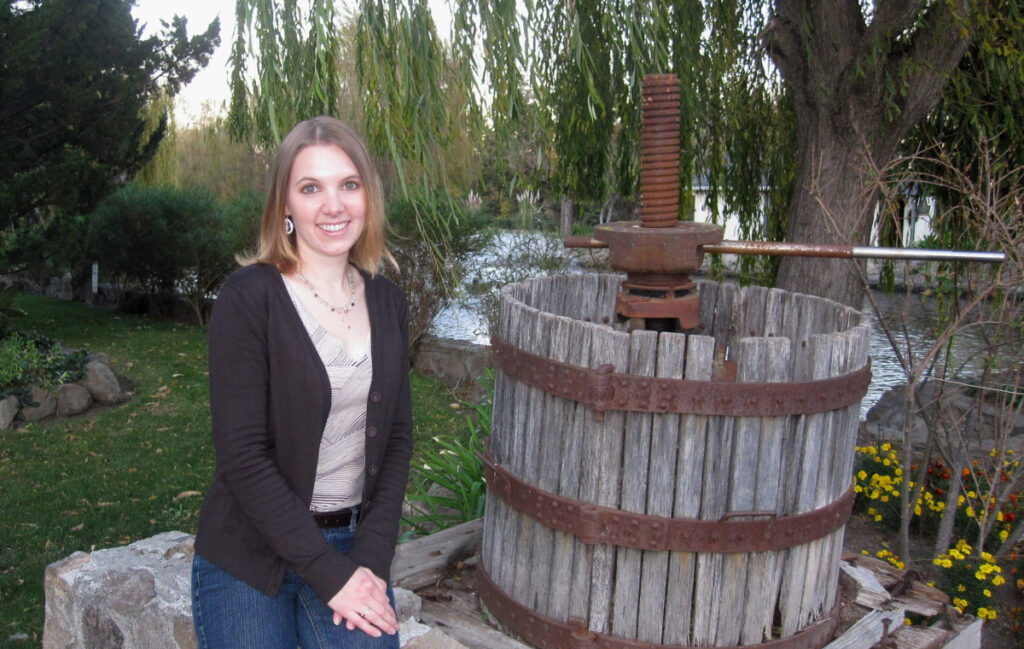 Over the course of my career, I have also spent time learning classic wine styles and winemaking regions. I did this by accruing two industry accreditations: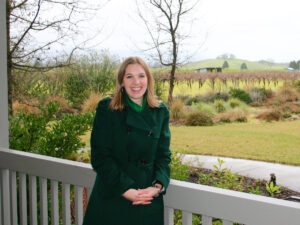 The Certified Specialist of Wine (CSW) through the Society of Wine Educators
Level 3 Certification from the Wine and Spirit Education Trust (WSET)
I received both of these accreditations while I was working at Penn State Extension as the State Extension Enologist. Through this position, I traveled throughout most of Pennsylvania's wine industry, educating industry members on current winemaking practices and wine quality improvement. I also spent a lot of time traveling to other winemaking regions throughout the U.S. to provide education speaking engagements on wine production practices.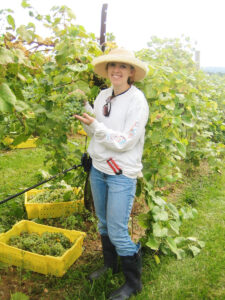 During those 6.5 years, I was able to visit several winemaking regions throughout the U.S. and taste wines from all sorts of wine grape varieties: natives, hybrids, and European varieties. I also made some wine for research purposes. Having to coordinate my own harvests provided me with a lot of insight into challenges winemakers face throughout the U.S. It also gave me a profound opportunity to experiment with winemaking techniques and make some fabulous wines!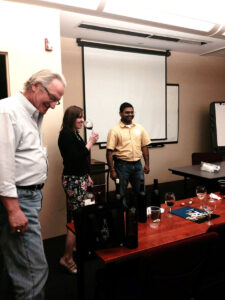 While I have had a lot of really cool experiences through my career like running cork screens, assisting with sensory trials for wineries, educating wine industry members through Extension, mentoring tomorrow's winemakers and food scientists, and speaking throughout the U.S. on good winemaking practices…
I eventually started this business: Denise Gardner Winemaking.
Chapter 5: And that's where we meet!
Since 2017, I have been a winemaking consultant that services winemakers throughout the U.S. My focus is to reach those wineries in regions that struggle to find expertise in helping them craft and produce high quality wines.
But I also really love wine.
Keeping my sensory skills acute requires me to taste wines often. And honestly, I'd like to share those wines with more people. This is really what led me to create the Wine Lovers Community. It's provided me with a space to talk about the things in wine that I love (or the things that are weird). I can share "secrets" and explain winemaking practices that a lot of other wine experts don't explain. Having a unique background in wine production allows me to be frank and clear about wine processing in ways many wine writers cannot accomplish.
So if you love wine, you have come to the right place.
If you need that wine expert in your back pocket when you're getting ready to choose your next wine, you've come to the right place.
If you wondered what wine they are drinking on a TV show or movie, you have come to the right place.
I'm here to talk about it, explore it, and share it with all of you!